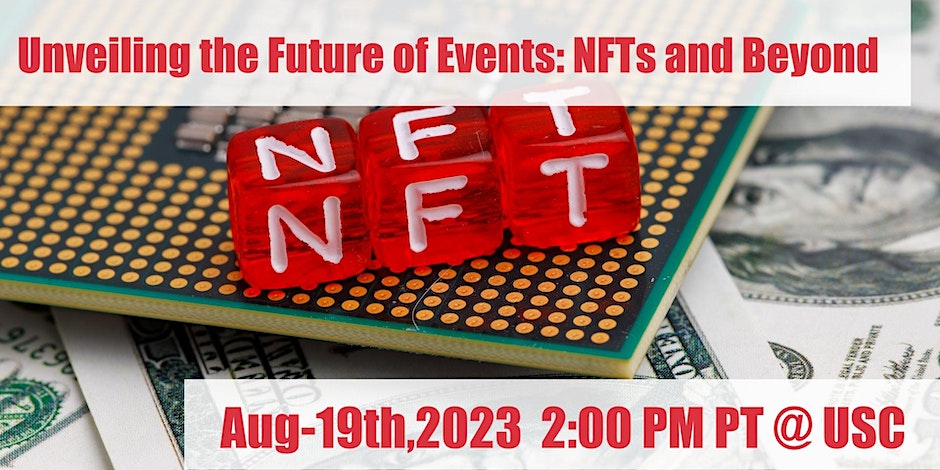 Are you ready to dive into the exciting world of NFTs and discover how blockchain technology is reshaping the landscape of events?Get tickets
When and where
Date and time
Saturday, August 19 · 2 – 4pm PDT
Location
Dr. Joseph Medicine Crow Center for International and Public Affairs (CPA) RM101 3518 Trousdale Parkway Los Angeles, CA 90089 United States
Agenda
14:00 – 14:45
Mastering the Art of Crafting Effective ChatGPT Prompts
14:45 – 15:30
Unveiling the Future of Events: NFTs and Beyond
About this event
Are you ready to dive into the exciting world of NFTs and discover how blockchain technology is reshaping the landscape of events and entertainment? We're thrilled to invite you to our upcoming meetup featuring a distinguished speaker who's at the forefront of innovation in this space!
🌟 About the Speaker:
Adrian Robison, Co-Founder of DJ3N
Adrian, an RIAA Gold-certified recording artist (Strata / Marvel) and contributor to an Emmy-winning "Best Commercial" (Nike – "Dream Crazy"), worked as the Creative Marketing Director at Harmony, an EVM-compatible sharded blockchain. There, he 10x'd social engagement and secured $2m+ for strategic partnerships. In 2022, in collaboration with two Harmony colleagues, Adrian co-founded DJ3N. The company joined forces with Ernie Ball Strings, the #1 guitar and bass string manufacturer in the world, to introduce BattleOfTheBands.com, with platform winners opening for rock legends Lynyrd Skynyrd. DJ3N is now adding NFT-based ticketing to their platform, striving to blend blockchain with unique events. Knowing that authentication is essential for any blockchain activity, they plan to use their proprietary patent-pending blockchain login flow to target a more mainstream Web2 user base.
🔥 What to Expect:
Gain insights into the world of NFTs and how they're revolutionizing the event industry.
Learn from Adrian's experiences in leveraging blockchain to enhance social engagement and secure strategic partnerships.
Discover the fascinating journey of DJ3N from its inception to its collaboration with Ernie Ball Strings and beyond.
Explore the integration of blockchain-based authentication and proprietary patent-pending login flows to target mainstream Web2 users.
Engage in a dynamic Q&A session with Adrian and tap into his wealth of expertise.
Don't miss this incredible opportunity to gain a deeper understanding of NFTs, blockchain's role in transforming events, and the future of unique experiences.
Feel free to invite friends and colleagues who share your passion for blockchain technology and its potential to reshape industries. Let's come together to explore the fascinating intersection of music, blockchain, and events!
Looking forward to seeing you there!