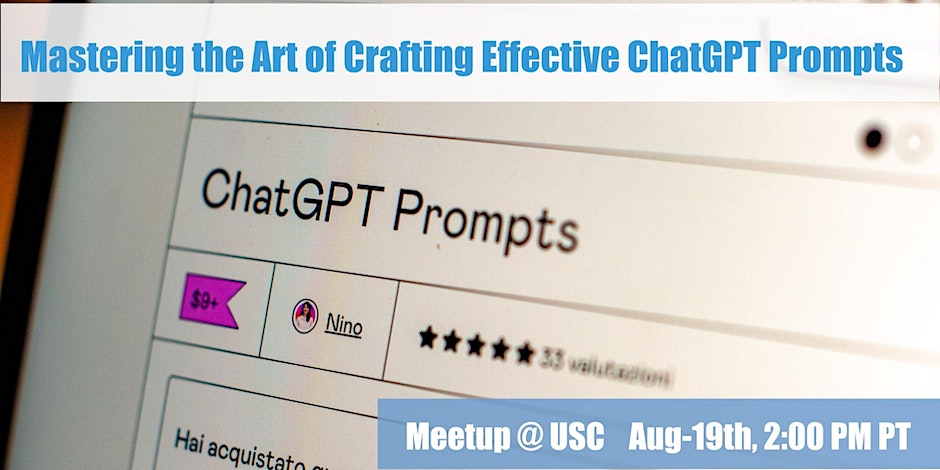 Don't miss out on this fantastic opportunity to enhance your AI skills and elevate your interactions with AI technology.Get tickets
When and where
Date and time
Saturday, August 19 · 2 – 4pm PDT
Location
Dr. Joseph Medicine Crow Center for International and Public Affairs (CPA) RM101 3518 Trousdale Parkway Los Angeles, CA 90089 United States
Agenda
14:00 – 14:45
Mastering the Art of Crafting Effective ChatGPT Prompts
Jason Geng
14:45 – 15:30
Unveiling the Future of Events: NFTs and Beyond
Adrian Robison
About this event
Are you fascinated by the power of AI and its potential to transform the way we interact with technology? If you are curious about the inner workings of tools like ChatGPT and want to learn how to harness their capabilities to the fullest, we have an exciting event lined up just for you!
Introducing our upcoming meetup:
Mastering the Art of Crafting Effective ChatGPT Prompts
Whether you are a seasoned AI practitioner or just starting your journey, this event is designed to equip you with the skills to write prompts that yield insightful and precise responses from AI systems.
What to Expect:
o Insider Insights: Uncover the behind-the-scenes mechanics of how ChatGPT processes and generates responses.
o Guidelines and Best Practices: Learn essential techniques to formulate prompts that yield accurate and contextually relevant answers.
o Interactive Sessions: Engage in hands-on exercises to practice writing prompts and receive immediate feedback.
o Q&A with AI Experts: Get your questions answered by experienced AI practitioners during our panel discussion.
o Networking Opportunities: Connect with fellow AI enthusiasts, share your experiences, and expand your professional network.
🎙️ Meet Our Expert Speakers:
– Jason Geng , Data scientist, entrepreneur, investor, professor, public speaker
Don't miss out on this fantastic opportunity to enhance your AI skills and elevate your interactions with AI technology. Whether you are looking to improve customer support chatbots, create engaging AI-driven content, or explore new horizons in AI research, this meetup has something for everyone.
Feel free to bring your friends and colleagues who are also interested in AI! Join us as we delve into the world of ChatGPT prompts and uncover the secrets to eliciting meaningful responses from AI systems. Together, we'll sharpen our AI writing skills and discover new avenues for innovation.
See you at the meetup!